Bearing

designation

ZYS

Boundary dimension

Rated load

Weight KG

≈

d

D

T

rmin

Ca

Coa

mm

KN

51120

100

135

25

1

80

240

1.05

51220

100

150

38

1.1

140

365

2.2

51320

100

170

55

1.5

225

550

4.95

51420

100

210

85

3

380

955

15

51122

110

145

25

1

85

260

1.05

51222

110

160

38

1.1

140

390

2.4

51322

110

190

63

2

270

675

7.85

51422

110

230

95

3

430

1140

20

51124

120

155

25

1

85

280

1.15

51224

120

170

39

1.1

145

410

2.65

51324

120

210

70

2.1

315

835

11

51424

120

250

102

4

480

1345

25.5

51126

130

170

30

1

105

350

1.85

51226

130

190

45

1.5

195

555

4

51326

130

225

75

2.1

345

950

13

51426

130

270

110

4

535

1570

32

51128

140

180

31

1

110

370

2.05

51228

140

200

46

1.5

200

590

4.35

51328

140

240

80

2.1

370

1105

15.5

51428

140

280

112

4

545

1645

34.5

51130

150

190

31

1

110

395

2.2

51230

150

215

50

1.5

230

690

6.1

51330

150

250

80

2.1

380

1165

16.5

51430

150

300

120

4

600

1890

42.5

51132

160

200

31

1

115

415

2.35

51232

160

225

51

1.5

235

710

6.55

51332

160

270

87

3

430

1375

21

51134

170

215

34

1.1

140

500

3.3

51234

170

240

55

1.5

265

815

8.15

51334

170

280

87

3

435

1440

22

51136

180

225

34

1.1

140

530

3.5

51236

180

250

56

1.5

270

855

8.6

51336

180

300

95

3

490

1675

28.5

51138

190

240

37

1.1

170

625

4.05

51238

190

270

62

2

315

1070

12

51338

190

320

105

4

540

1930

36.5

51140

200

250

37

1.1

170

650

4.25

51240

200

280

62

2

320

1090

12

51340

200

340

110

4

600

2200

44.5

51144

220

270

37

1.1

175

710

4.6

51244

220

300

63

2

330

1205

13

51148

240

300

45

1.5

235

940

7.55

51248

240

340

78

2.1

435

1650

23

51152

260

320

45

1.5

245

1010

8.1

51252

260

360

79

2.1

445

1760

25

51452

260

480

175

6

1070

4570

135

51156

280

350

53

1.5

310

1280

12

51256

280

380

80

2.1

455

1915

26.5

51060

300

340

30

1

140

740

4.1

59160

300

380

48

2

365

1575

12.5

51160

300

380

62

2

365

1575

17.5

51260

300

420

95

3

565

2544

42

51064

320

360

30

1

145

790

4.3

59164

320

400

48

2

370

1670

13.5

51164

320

400

63

2

370

1670

19

51264

320

440

95

3

580

2645

45.5

51068

340

380

30

1

145

835

4.6

59168

340

420

48

2

380

1760

14

51168

340

420

64

2

380

1760

20.5

51268

340

460

96

3

590

2780

48.5

51368

340

540

160

5

1035

4970

135

51072

360

400

30

1

150

880

4.85

59172

360

440

48

2

385

1855

15

51172

360

440

65

2

385

1855

22

51272

360

500

110

4

710

3420

70

51076

380

420

30

1

155

925

5.1

59176

380

460

48

2

395

1950

15

51176

380

460

65

2

395

1950

23

51276

380

520

112

4

720

3650

73

51080

400

440

30

1

155

975

5.35

59180

400

480

48

2

400

2040

16.5

51180

400

480

65

2

400

2040

24

51280

400

540

112

4

735

3815

78.5

51084

420

460

30

1

160

1020

5.6

59184

420

500

48

2

405

2135

17

51184

420

500

65

2

405

2135

25.5

51284

420

580

130

5

860

4545

110

51088

440

480

30

1

160

1020

5.6

59188

440

540

60

2.1

525

2840

28

51188

440

540

80

2.1

525

2840

42

51288

440

600

130

5

875

4820

115

51092

460

500

30

1

165

1115

6.4

59192

460

560

60

2.1

535

2955

29.5

51192

460

560

80

2.1

535

2955

43.5

51292

460

620

130

5

885

5010

120

51096

480

520

30

1

165

1160

6.5

59196

480

580

60

2.1

540

3070

30.5

51196

480

580

80

2.1

540

3070

45.5

51296

480

650

135

5

960

5565

130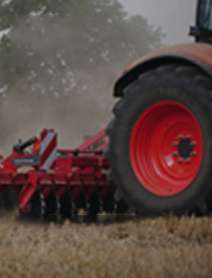 AGRICULTURE
Agricultural engineering involves a wide range of machinery, equipment and tools, most of which are specially designed and manufactured according to the characteristics of agriculture and the special requirements of various operations, such as soil tillage machinery, planting and fertilization machinery, plant protection machinery, crop harvesting machinery, animal husbandry machinery and agricultural products processing machinery, etc. Another part of agricultural machinery is common to other industries, and can be directly selected according to the characteristics and needs of agriculture, such as agricultural power machinery, water pumps in farmland irrigation and drainage machinery, etc.; or design these machinery into agricultural variants according to the characteristics and needs of agriculture, such as agricultural vehicles, trailers in agricultural transport machinery, stone machinery in farmland construction machinery.
LEARN MPRE >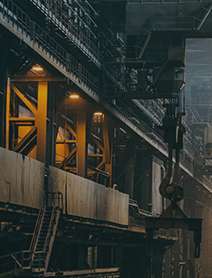 METALLURGY AND CONSTRUCTION There are many kinds of metallurgical equipment, including not only the equipment needed by the raw material factory, but also the equipment needed from the upstream process to the downstream process, such as steelmaking process, steel rolling process and leveling process. These bearings are used under the special conditions of iron powder, water and heat of metallurgical equipment, so they need to meet the requirements of heavy load , vibration shock, from ultra-low speed to high-speed & rapid acceleration and deceleration. "Stable operation and improved production efficiency" can be described as a representative industry in the field of metallurgical equipment. ZYS is not only in bearing design technology, but also in various aspects such as bearing material technology, lubrication technology, and analytical technology.
LEARN MPRE >