Performance characteristics of ZYS spindle bearing: Ultra high speed, high stiffness, high carrying capacity, good running performance, easy mounting of universally matchable bearings, suitable for oil and gas lubrication or injection lubrication.
Applications of ZYS spindle bearing: ZYS super high speed single row angular contact ball bearings might be used in the fields of machine tools, textiles, automobiles, railways, metallurgy, chemicals, electronics, Industrial pumps, Compressors, Material Handling, Electric motors.
Product features of ZYS angular contact ball bearing:
1. High-quality bearing materials: ZYS adopts ultra-clean steel, high purity high-carbon chromium bearing steel GCr15 from a well-known domestic manufacturer, which can extend the life of the bearing by 80%.
2. High quality bearing rolling elements: The bearing balls provided by ZYS have good product performance to ensure the optimal bearing configuration and smooth operation at high speed and quiet. ZYS has a complete process production line, from powder ultrasonic pre-dispersion, mixture mixing, spray drying granulation, near-net-size molding, cold isostatic pressing, GPS-HIP combined sintering process, high-precision grinding and processing, total quality inspection to packaging. ZYS has a comprehensive quality control system, quality identification of raw materials and auxiliary materials, quality control of mixed materials, quality control of pressing and sintering, and quality control of finished products.
3. More suitable bearing cage: ZYS mostly adopts bakelite cage, which can more effectively reduce the friction between metal and bearing balls and extend the life of the bearing. ZYS can also choose more suitable bearing cage materials according to customer requirements and bearing applications.
4. Advanced lubrication technology: ZYS uses high performance grease and advanced lubrication technology to extend bearing life and improve bearing performance.
5. Ultra finished raceways: ZYS uses special honing to minimize noise, improve lubricant dispersion and increase bearing life.
6. Contact angle: ZYS ultra high speed precision bearings usually use 15°and 25° contact angles.
7. Accuracy grade: ZYS can offer the high precision angular contact ball bearings with P2, P4A, P4 grade.
If you want to learn more about ZYS single row angular contact ball bearing, such as the principles of selecting precision bearings, bearing accuracy, limiting speed, rigidity, bearing lubrication ,bearing fitting, allowable operating temperature, bearing mounting and adjustment, please visit https://www.zys-bearing.com/support.html.
Why choose ZYS angular contact ball bearing?
For angular contact ball bearing, ZYS has a workshop of 16,000 square meters, and has the most advanced constant temperature grinding workshop of nearly 10,000 square meters and 4,000 square meters of 10,000-class clean assembly room. We have nearly 300 sets of precision processing equipment and more than 500 sets of various precision testing instruments. Please visit
https://www.zys-bearing.com/rd.html
to know our technical support, manufacturing capacity, testing support, and quality control of ZYS angular contact ball bearing.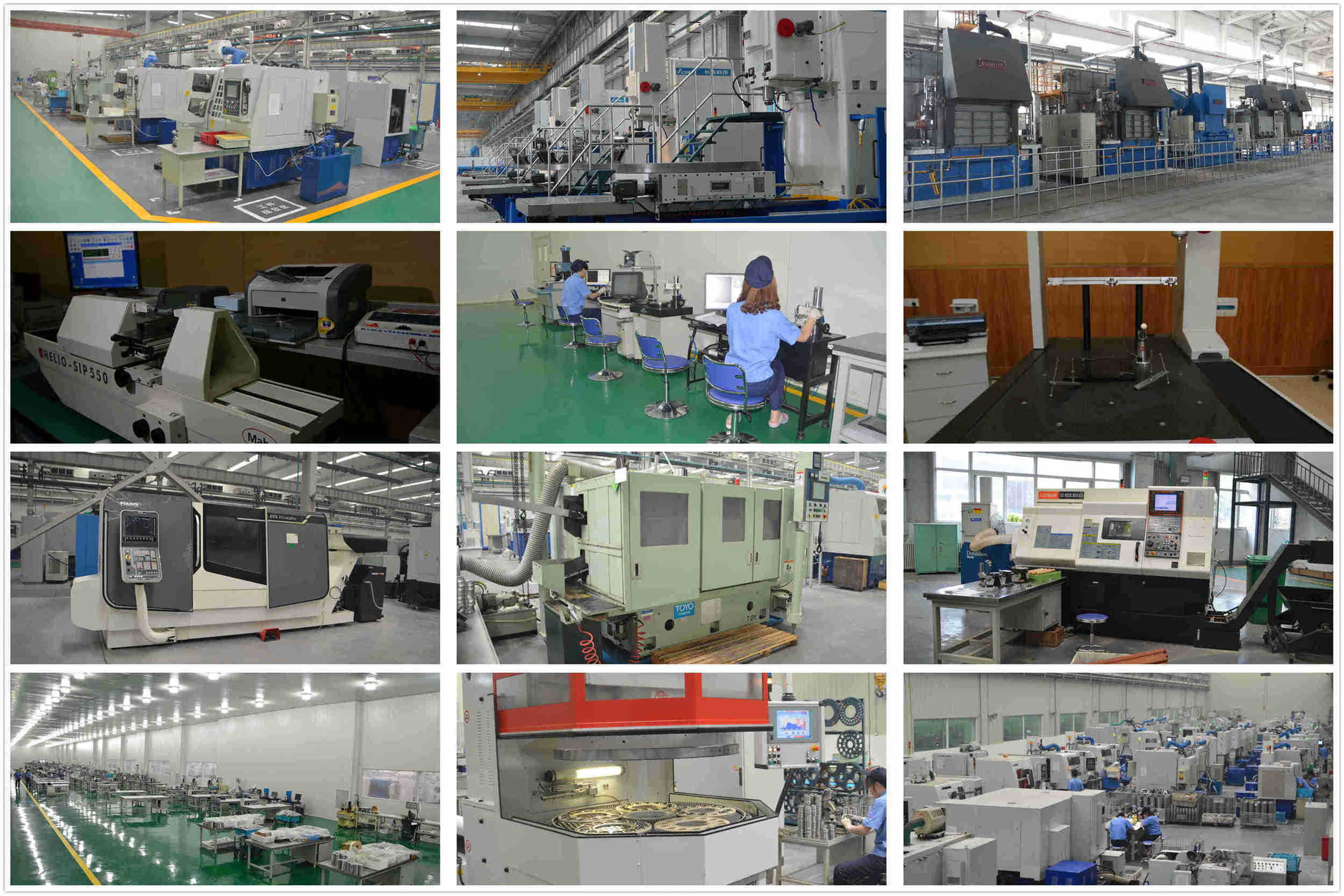 H70/H719 series Super high speed angular contact ball bearing

Principal dimensions

α= 15°

α= 25°

ZYS Bearing Designations

Basic load ratings

Limiting speed

Basic load ratings

Limiting speed

d

D

B

rsmin

rIsmin

Cr

Cor

Grease

Oil

Cr

Cor

Grease

Oil

mm≈

KN

r/min

10

22

6

0.30

0.10

2.1

0.9

85000

140000

2.0

0.9

75000

120000

H71900

10

22

6

0.30

0.10

2.1

0.9

95000

160000

2.0

0.9

85000

140000

H71900/HQ1

10

26

8

0.30

0.15

3.4

1.5

80000

130000

3.3

1.4

67000

110000

H7000

10

26

8

0.30

0.15

3.4

1.5

90000

150000

3.3

1.4

80000

130000

H7000/HQ1

12

24

6

0.30

0.10

2.2

1.1

80000

130000

2.1

1.1

70000

110000

H71901

12

24

6

0.30

0.10

2.2

1.1

90000

150000

2.1

1.1

80000

130000

H71901/HQ1

12

28

8

0.30

0.15

3.8

1.7

70000

110000

3.6

1.6

60000

90000

H7001

12

28

8

0.30

0.15

3.8

1.7

80000

130000

3.6

1.6

70000

110000

H7001/HQ1

15

28

7

0.30

0.10

3.2

1.7

70000

110000

3.1

1.6

60000

90000

H71902

15

28

7

0.30

0.10

3.2

1.7

80000

130000

3.1

1.6

70000

110000

H71902/HQ1

15

32

9

0.30

0.15

4.4

2.2

67000

100000

4.2

2.1

56000

85000

H7002

15

32

9

0.30

0.15

4.4

2.2

75000

120000

4.2

2.1

67000

100000

H7002/HQ1

17

30

7

0.30

0.10

3.3

1.8

67000

100000

3.2

1.7

56000

85000

H71903

17

30

7

0.30

0.10

3.3

1.8

75000

120000

3.2

1.7

63000

95000

H71903/HQ1

17

35

10

0.30

0.15

5.2

2.5

56000

85000

5.0

2.4

50000

75000

H7003

17

35

10

0.30

0.15

5.2

2.5

63000

95000

5.0

2.4

60000

90000

H7003/HQ1

20

37

9

0.30

0.15

5.0

2.9

53000

80000

4.8

2.7

45000

67000

H71904

20

37

9

0.30

0.15

5.0

2.9

63000

95000

4.8

2.7

53000

80000

H71904/HQ1

20

42

12

0.60

0.15

7.4

3.9

50000

75000

7.0

3.8

43000

63000

H7004

20

42

12

0.60

0.15

7.4

3.9

60000

90000

7.0

3.8

48000

70000

H7004/HQ1

25

42

9

0.30

0.15

5.2

3.4

48000

70000

4.9

3.3

40000

60000

H71905

25

42

9

0.30

0.15

5.2

3.4

53000

80000

4.9

3.3

45000

67000

H71905/HQ1

25

47

12

0.60

0.15

8.4

4.8

43000

63000

8.0

4.6

36000

53000

H7005

25

47

12

0.60

0.15

8.4

4.8

48000

70000

8.0

4.6

43000

63000

H7005/HQ1

30

47

9

0.30

0.15

5.8

3.8

43000

63000

5.4

3.6

36000

53000

H71906

30

47

9

0.30

0.15

5.8

3.8

48000

70000

5.4

3.6

40000

60000

H71906/HQ1

30

55

13

1.00

0.30

9.5

6.2

38000

56000

9.0

5.9

34000

50000

H7006

30

55

13

1.00

0.30

9.5

6.2

45000

67000

9.0

5.9

38000

56000

H7006/HQ1

35

55

10

0.60

0.15

7.7

5.4

36000

53000

7.4

5.1

30000

45000

H71907

35

55

10

0.60

0.15

7.7

5.4

40000

60000

7.4

5.1

34000

50000

H71907/HQ1

35

62

14

1.00

0.30

11.2

7.9

34000

50000

10.7

7.5

30000

45000

H7007

35

62

14

1.00

0.30

11.2

7.9

38000

56000

10.7

7.5

34000

50000

H7007/HQ1

40

62

12

0.60

0.15

9.8

7.0

30000

45000

9.3

6.6

26000

40000

H71908

40

62

12

0.60

0.15

9.8

7.0

34000

50000

9.3

6.6

28000

43000

H71908/HQ1

40

68

15

1.00

0.30

12.5

9.1

28000

43000

11.1

8.6

24000

38000

H7008

40

68

15

1.00

0.30

12.5

9.1

34000

50000

11.1

8.6

28000

43000

H7008/HQ1

45

68

12

0.60

0.15

10.3

7.7

26000

40000

9.7

7.3

22000

36000

H71909

45

68

12

0.60

0.15

10.3

7.7

28000

43000

9.7

7.3

26000

40000

H71909/HQ1

45

75

16

1.00

0.30

13.1

10.2

24000

38000

12.5

9.7

22000

36000

H7009

45

75

16

1.00

0.30

13.1

10.2

28000

43000

12.5

9.7

26000

40000

H7009/HQ1

50

72

12

0.60

0.15

13.2

10.0

22000

36000

12.5

9.5

19000

32000

H71910

50

72

12

0.60

0.15

13.2

10.0

26000

40000

12.5

9.5

22000

36000

H71910/HQ1

50

80

16

1.00

0.30

15.4

12.0

20000

34000

14.7

11.4

18000

30000

H7010

50

80

16

1.00

0.30

15.4

12.0

24000

38000

14.7

11.4

20000

34000

H7010/HQ1

55

80

13

1.00

0.30

16.0

12.6

19000

32000

15.0

11.9

16000

26000

H71911

55

80

13

1.00

0.30

16.0

12.6

22000

36000

15.0

11.9

19000

32000

H71911/HQ1

55

90

18

1.10

0.60

17.0

14.5

19000

32000

16.0

13.7

17000

28000

H7011

55

90

18

1.10

0.60

17.0

14.5

22000

36000

16.0

13.7

19000

32000

H7011/HQ1

60

85

13

1.00

0.30

16.6

13.8

18000

30000

15.7

13.1

15000

24000

H71912

60

85

13

1.00

0.30

16.6

13.8

20000

34000

15.7

13.1

18000

30000

H71912/HQ1

60

95

18

1.10

0.60

17.0

15.3

18000

30000

16.2

14.4

15000

24000

H7012

60

95

18

1.10

0.60

17.0

15.3

20000

34000

16.2

14.4

18000

30000

H7012/HQ1

65

90

13

1.00

0.30

16.8

14.5

17000

28000

16.0

13.7

15000

24000

H71913

65

90

13

1.00

0.30

16.8

14.5

19000

32000

16.0

13.7

17000

28000

H71913/HQ1

65

100

18

1.10

0.60

20.2

18.6

16000

26000

19.0

17.6

13000

20000

H7013

65

100

18

1.10

0.60

20.2

18.6

19000

32000

19.0

17.6

15000

24000

H7013/HQ1

70

100

16

1.00

0.30

20.9

17.8

16000

26000

19.7

16.9

13000

20000

H71914

70

100

16

1.00

0.30

20.9

17.8

18000

30000

19.7

16.9

15000

24000

H71914/HQ1

70

110

20

1.10

0.60

24.1

21.4

15000

24000

22.6

20.1

13000

20000

H7014

70

110

20

1.10

0.60

24.1

21.4

18000

30000

22.6

20.1

15000

24000

H7014/HQ1

75

105

16

1.00

0.30

21.7

19.3

15000

24000

20.5

18.2

13000

20000

H71915

75

105

16

1.00

0.30

21.7

19.3

17000

28000

20.5

18.2

15000

24000

H71915/HQ1

75

115

20

1.10

0.60

26.2

25.5

14000

22000

24.7

24.2

12000

19000

H7015

75

115

20

1.10

0.60

26.2

25.5

16000

26000

24.7

24.2

14000

22000

H7015/HQ1

80

110

16

1.00

0.30

22.4

20.8

14000

22000

21.2

19.6

12000

19000

H71916

80

110

16

1.00

0.30

22.4

20.8

16000

26000

21.2

19.6

14000

22000

H71916/HQ1

80

125

22

1.10

0.60

34.2

32.7

13000

20000

32.3

31.0

11000

18000

H7016

80

125

22

1.10

0.60

34.2

32.7

15000

24000

32.3

31.0

13000

20000

H7016/HQ1

85

120

18

1.10

0.60

26.1

24.2

13000

20000

24.7

22.9

11000

18000

H71917

85

120

18

1.10

0.60

26.1

24.2

15000

24000

24.7

22.9

13000

20000

H71917/HQ1

85

130

22

1.10

0.60

35.0

35.2

12000

19000

33.0

33.4

10000

17000

H7017

85

130

22

1.10

0.60

35.0

35.2

14000

22000

33.0

33.4

12000

19000

H7017/HQ1

90

125

18

1.10

0.60

27.0

26.0

13000

20000

25.5

24.6

11000

18000

H71918

90

125

18

1.10

0.60

27.0

26.0

15000

24000

25.5

24.6

13000

20000

H71918/HQ1

90

140

24

1.50

0.60

36.4

38.1

11000

18000

34.3

36.1

9500

16000

H7018

90

140

24

1.50

0.60

36.4

38.1

13000

20000

34.3

36.1

11000

18000

H7018/HQ1

95

130

18

1.10

0.60

27.3

26.9

12000

19000

25.8

25.4

11000

18000

H71919

95

130

18

1.10

0.60

27.3

26.9

14000

22000

25.8

25.4

13000

20000

H71919/HQ1

95

145

24

1.50

0.60

44.4

45.2

10000

17000

41.9

42.9

8500

14000

H7019

95

145

24

1.50

0.60

44.4

45.2

12000

19000

41.9

42.9

10000

17000

H7019/HQ1

100

140

20

1.10

0.60

40.1

37.6

11000

18000

37.9

35.5

9000

15000

H71920

100

140

20

1.10

0.60

40.1

37.6

13000

20000

37.9

35.5

11000

18000

H71920/HQ1

100

150

24

1.50

0.60

45.4

48.1

10000

17000

42.7

44.7

8500

14000

H7020

100

150

24

1.50

0.60

45.4

48.1

12000

19000

42.7

44.7

10000

17000

H7020/HQ1

105

145

20

1.10

0.60

40.7

39.1

10000

17000

38.4

36.9

8500

14000

H71921

105

145

20

1.10

0.60

40.7

39.1

12000

19000

38.4

36.9

10000

17000

H71921/HQ1

105

160

26

2.00

1.00

46.1

49.2

9500

16000

43.3

46.6

8000

13000

H7021

105

160

26

2.00

1.00

46.1

49.2

11000

18000

43.3

46.6

9000

15000

H7021/HQ1

110

150

20

1.10

0.60

41.3

40.5

9000

15000

39.0

38.3

7500

12000

H71922

110

150

20

1.10

0.60

41.3

40.5

11000

18000

39.0

38.3

9500

16000

H71922/HQ1

110

170

28

2.00

1.00

47.9

53.9

9500