The inner and outer rings and rolling elements of ZYS deep groove ball bearings for robot are made of ZYS steel #3 with higher wear resistance and impact toughness, which is specially developed by
ZYS and domestic famous steel plant. The cage is made of stainless steel stamped semi cage with rivet connection, and the material is traditional grade 1Gr18Ni9Ti.
It is mainly used in output shaft of RV reducer and small clearance is used during manufacturing .
Code example of thin-wall deep groove ball bearing:ZR66/10/P4, where ZR66 stands for thin wall deep groove ball bearing; 10 represents the bearing inner diameter;
P4 represents the accuracy level.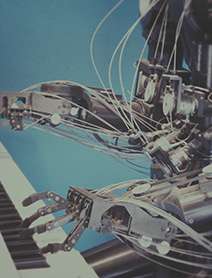 ROBOT Robot is a machine that performs work automatically. It can either be directed by humans, pre-programmed programs, or act on principles that are based on artificial intelligence technology. Its task is to assist or replace human work, such as manufacturing, construction, or hazardous work.
LEARN MPRE >