Product features of ZYS deep groove ball bearing:
Bearing inner and outer ring: The inner ring, outer ring and rolling elements of the bearing form an organic rotating unit. The inner and outer rings of ZYS deep groove ball bearings are made of GCr15 high-quality steel. The steel has high density and good ductility, which effectively prolongs the service life of the bearing.
Bearing rolling elements: The rolling elements transfer the load between the inner ring and the outer ring. ZYS deep groove ball bearings use G10 national standard steel balls to ensure stable operation and low noise.
Bearing cage: The bearing cage can reduce the frictional heat, optimize the load, keep the rolling elements in the correct position and interval, and prevent the rolling elements from falling off during installation. ZYS deep groove ball bearings use steel stamping cage or brass solid cage.
Bearing seal:
ZYS can provide deep groove ball bearings with different sealing structures, including open type (No shields), ZZ type (Metal shields), 2RS type (Contact rubber seals), 2RZ type (Non-contact rubber shields).
RS type (Contact rubber seals): The rubber seal material can effectively prevent foreign matter (liquid state) and impurities from intruding into the bearing and causing internal damage to the bearing. It has a good mute effect and is suitable for harsh environments.
ZZ type (Metal shields): The sealing material is stainless steel, which can effectively prevent external impurities from invading the bearing and causing internal damage to the bearing. It has low friction resistance, fast heat dissipation, high temperature resistance, high speed, and it is suitable for relatively clean working conditions.
Open type (No shields): The steel ball can be seen directly without a seal, which is suitable for a sealed environment such as a gear box and an environment with a lot of oil. The friction resistance is small, the idling effect is good, and the speed is super high.
Bearing clearance:
The radial clearance of rolling bearings is divided into five groups: C2 group, CO group, C3 group, C4 group and C5 group. The clearance value is from small to large. Among them, the C0 group is the standard clearance, which is suitable for general operating conditions, general temperature and common interference fit. Bearings with poor rigidity or working under conditions of high temperature, high speed, low noise and low friction should choose a large radial clearance. The original internal clearance is usually greater than the operating clearance. This is due to the difference in the degree of fit in the installation and the difference in the thermal expansion of the inner and outer rings and related parts of the bearing, which causes the inner and outer rings to expand or contract.
Bearing lubrication:
1. The purpose of rolling bearing lubrication is to form a thin oil film between the rolling surface and sliding surface of the bearing to prevent direct contact between metal and metal.
2. The grease sealing device is simple in design and does not require special oil supply equipment. It can prevent the intrusion of dust and moisture. Maintenance is simple, long-term operation does not need to be replaced, it is the most used lubricant for rolling bearings. Grease lubrication runs for a long time without replacement, and is the most used lubricant for rolling bearings.
3. Grease filling varies with bearing, bearing housing design, space volume, rotation speed and grease type. The amount of grease filled in the bearing should be 20%-30% of the inner space of the bearing. It should be reduced to 20% at high speed.
4. ZYS has added the necessary amount of grease in accordance with the process standard, and can meet the use under normal working conditions, so the user does not need to add additional grease.
Advantages of ZYS deep groove ball bearings:
1.Low noise: ZYS adopts advanced silent manufacturing technology to produce energy-saving and environmentally-friendly high performance bearings, featuring low noise, low torque, low temperature rise, high limit speed, and low friction.
2.High precision: ZYS adopts new materials and special structure design, and uses high-efficiency polishing technology, so that ZYS bearing product has the characteristics of good sealing, low running resistance, and high rotation accuracy.
3. Long life: ZYS adopts hot rolling technology and special heat treatment process to improve the bearing's high temperature resistance, wear resistance, impact resistance, high load capacity and other properties, and enhance the reliability and service life of the bearing.
Why choose ZYS bearing:
ZYS has an independent R&D center and a core technology system with independent intellectual property rights. ZYS technical team and R&D equipment scale are at the forefront of the bearing industry. ZYS has many scientific research, testing and service institutions such as the National Bearing Quality Supervision and Inspection Center and the National Bearing Accreditation Laboratory. ZYS has achieved 908 major scientific research projects and has 792 authorized patents.
Simulation analysis and design technology: ZYS has a post-doctoral research station, an experienced team of domestic and foreign experts, complete bearing professional analysis and finite element analysis software, which can systematically analyze and design the mechanics, kinematics and dynamics properties of bearings and bearing components.
Material technology: ZYS specializes in the research and development of bearing special steel, forming and heat treatment technology, bearing lubrication and sealing materials to ensure that the bearings can meet the requirements of various complex working conditions such as long life, impact resistance, heavy load, high and low temperature.
Simulation bench test technology: ZYS possesses test technical specifications, test equipment, and test equipment development capabilities and test data processing and analysis capabilities for various types of bearings under various working conditions, providing strong support for customer product development.
Professional application technical services: ZYS has more than 380 engineering and technical personnel in bearing-related disciplines, and maintains a leading position in bearing design, basic theoretical research, lubrication technology, metal and non-metal materials, testing, and industrial standards. ZYS professional service team provides customers with systematic bearing application technology solutions including bearing selection, design, materials, testing, and process equipment.
Technical parameters of ZYS deep groove ball bearings: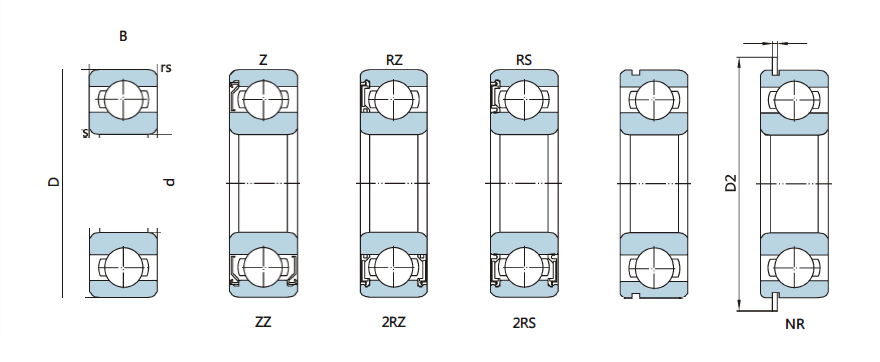 Bearing Model

Dimension

Basic Load rating (kN)

Weight (kg)

Standard type

shield

seal

With snap ring groove

With snap ring

d

D

B

rsmin

D2 (max)

max

Cr

Cor

624

ZZ

2RZ

2RS

N

NR

4

13

5

0.2

-

-

1.15

0.4

0.0031

625

ZZ

2RZ

2RS

N

NR

5

16

5

0.3

-

-

1.88

0.68

0.0048

626

ZZ

2RZ

2RS

N

NR

6

19

6

0.3

-

-

2.80

1.05

0.0081

627

ZZ

2RZ

2RS

N

NR

7

22

7

0.3

-

-

3.28

1.35

0.013

628

ZZ

2RZ

2RS

N

NR

8

24

8

0.3

-

-

3.35

1.40

0.017

629

ZZ

2RZ

2RS

N

NR

9

26

8

0.3

-

-

4.45

1.95

0.020

6200

ZZ

2RZ

2RS

N

NR

10

30

9

0.6

-

-

5.1

2.39

0.032

6201

ZZ

2RZ

2RS

N

NR

12

32

10

0.6

36.7

1.12

6.00

2.70

0.036

6202

ZZ

2RZ

2RS

N

NR

15

35

11

0.6

39.7

1.12

7.80

3.75

0.045

6203

ZZ

2RZ

2RS

N

NR

17

40

12

0.6

44.6

1.12

9.56

4.75

0.065

6204

ZZ

2RZ

2RS

N

NR

20

47

14

1

52.7

1.12

12.7

6.55

0.103

6205

ZZ

2RZ

2RS

N

NR

25

52

15

1

57.9

1.12

14.0

7.80

0.127

6206

ZZ

2RZ

2RS

N

NR

30

62

16

1

67.7

1.7

19.5

11.2

0.203

6207

ZZ

2RZ

2RS

N

NR

35

72

17

1.1

78.6

1.7

25.5

15.3

0.287

6208

ZZ

2RZ

2RS

N

NR

40

80

18

1.1

86.6

1.7

30.7

19.0

0.367

6209

ZZ

2RZ

2RS

N

NR

45

85

19

1.1

91.6

1.7

33.2

21.6

0.416

6210

ZZ

2RZ

2RS

N

NR

50

90

20

1.1

96.5

2.46

35.1

23.2

0.462

6211

ZZ

2RZ

2RS

N

NR

55

100

21

1.5

106.5

2.46

43.4

29.2

0.607

6212

ZZ

2RZ

2RS

N

NR

60

110

22

1.5

116.6

2.46

47.5

32.5

0.783

6213

ZZ

2RZ

2RS

N

NR

65

120

23

1.5

129.7

2.82

55.9

40.5

0.990

6214

ZZ

2RZ

2RS

N

NR

70

125

24

1.5

134.7

2.82

60.5

45.0

1.10

6215

ZZ

2RZ

2RS

N

NR

75

130

25

1.5

139.7

2.82

66.3

49.0

1.20

6216

ZZ

2RZ

2RS

N

NR

80

140

26

2

149.7

2.82

70.2

55.0

1.40

6217

ZZ

2RZ

2RS

N

NR

85

150

28

2

159.7

2.82

83.2

64.0

1.80

6218

ZZ

2RZ

2RS

N

NR

90

160

30

2

169.7

2.82

95.6

73.5

2.15

6219

ZZ

2RZ

2RS

N

NR

95

170

32

2.1

182.9

3.1

108

81.5

2.60

6220

ZZ

2RZ

2RS

N

NR

100

180

34

2.1

192.9

3.1

122

92.7

3.20

6221

ZZ

2RZ

2RS

N

NR

105

190

36

2.1

202.9

3.1

133

104

3.71

6222

ZZ

2RZ

2RS

N

NR

110

200

38

2.1

212.9

3.1

144

117

4.44

6224

ZZ

2RZ

2RS

N

NR

120

215

40

2.1

227.8

3.1

155

130

5.32

6226

ZZ

2RZ

2RS

N

NR

130

230

40

3

242

3.5

165

147

6.13

6228

ZZ

2RZ

2RS

N

NR

140

250

42

3

262

3.5

165

125

7.45

6230

ZZ

2RZ

2RS

--

-

150

270

45

3

--

-

174

137

9.40

6232

ZZ

2RZ

2RS

--

--

160

290

68

3

--

-

185

186

12.8

6234

ZZ

2RZ

2RS

--

-

170

310

52

4

--

-

212

224

15.8

6236

ZZ

2RZ

2RS

--

-

180

320

52

4

--

-

227

241

15.9

6238

ZZ

2RZ

2RS

--

-

190

340

55

4

--

-

255

282

22.3

6240

ZZ

2RZ

2RS

--

-

200

360

58

4

--

-

269

310

26.7

6244

ZZ

2RZ

2RS

--

-

220

400

65

4

--

-

310

375

37.4

6248

ZZ

2RZ

2RS

--

-

240

440

72

4

--

-

340

430

50.5

6252

ZZ

2RZ

2RS

--

-

260

480

80

5

--

-

400

540

67

6256

ZZ

2RZ

2RS

--

-

280

500

80

5

--

-

400

550

70.4

6260

ZZ

2RZ

2RS

--

--

300

540

85

5

--

-

465

670

87.8